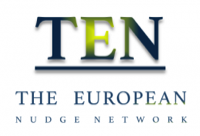 The European Nudge Network is a platform for accelerating information dissemination and collaboration across Europe based on the template of the successful Danish Nudging Network.
The European Nudge Network is meant to map and facilitate these efforts as well as inspire and and support new national initiatives throughout the European Union.
On June 27, at Roskilde University in Copenhagen, a conference titled THE NEW POLICY ABsC - 5 years of Applied Behavioral Science in Public Policy is set to launch the European Nudge Network by gathering for the first time all European actors involved in applying behavioural sciences to policymaking.